Nvidia has introduced the next generation GeForce RTX 4090 and GeForce RTX 4080 graphics cards with 12 and 16 GB of VRAM based on the new Ada Lovelace architecture. Not surprisingly, the company's own DLSS upsampling technology also takes a step forward. Above all, DLSS 3 should offer more FPS than DLSS 2. But RTX 40 is a must.
DLSS 3 vs. DLSS 2
DLSS 3 is based on DLSS 2. The approach sounds identical at first: With the help of so-called motion vectors, the pixel movements in several previous frames are determined and this information is then used for the current frame. This makes it possible with DLSS 2 or other temporary oversampling methods to correctly display objects that are not actually displayed correctly, because the information required for this is not available in the current frame, but in the previous frames combined.
A better combination of DLSS 1 and DLSS 2
But DLSS 3 goes further and, with the help of a neural network, creates several future frames (optical multi-frame generation) using previously collected information on a temporary basis, and thus represents something like a combination of DLSS 1 and DLSS 2. -called "DLSS Frame Generation Convolutional Auto Encoder" creates the additional frames by analyzing four previous frames (the current one plus three previous ones) and game data such as geometry and motion vectors. There is also an "optical flow accelerator" analysis that captures the movement of other pixels between different frames that are not included in the motion vectors. The process used allows DLSS to reconstruct up to seven-eighths of the displayed pixels, which should greatly reduce performance costs.
DLSS 3 requires RTX 4000
According to Nvidia, the neural network should benefit significantly from the new fourth-generation Tensor Cores in Ada Lovelace, and it requires the new Tensor Cores as well. This means: DLSS 3 will only be available on GeForce RTX 4000 graphics cards.
Additionally, DLSS 3 also integrates Reflex to reduce game input lag. Nvidia speaks of up to half the latency.
Up to 4x the performance on the GPU and 2x the CPU limit
In a preview build of Cyberpunk 2077, DLSS 3 is said to increase frame rates by a factor of 4 compared to native rendering while cutting input lag in half. Without further details like render resolution, the spec is impressive, but ultimately not very significant. In addition, it is not clear how the image quality will turn out. Although there is a video with DLSS 3 in Cyberpunk 2077, it is very short and the compression of YouTube does not help for an initial analysis.
Since DLSS framing runs solely as a post-processing effect on the GPU, DLSS 3 can also increase frame rates in purely CPU-limited scenarios. Of course, DLSS 3 can't work with new CPU data, but it can certainly create new frames based on older data, and thus increase the frame rate, even if the input lag shouldn't improve. in this case despite the higher frame rate. . In a pre-release version of Microsoft Flight Simulator, DLSS 3 is said to run twice as fast as native resolution in a CPU-limited scenario. But here too more details are missing to be able to assess the result.
35 games announced, things will kick off in October
Nvidia has announced DLSS 3 for over 35 games and apps. Apart from the aforementioned Cyberpunk 2077 and Microsoft Flight Simulator, there will be A Plague Tale Requiem, Dying Light 2, F1 22, Hitman 3, Hogwarts Legacy, Stalker 2 and The Witcher 3, among others. Additionally, DLSS 3 has been integrated into the Unreal and Unity engines. DLSS 3 will be integrated into the first game at the end of October.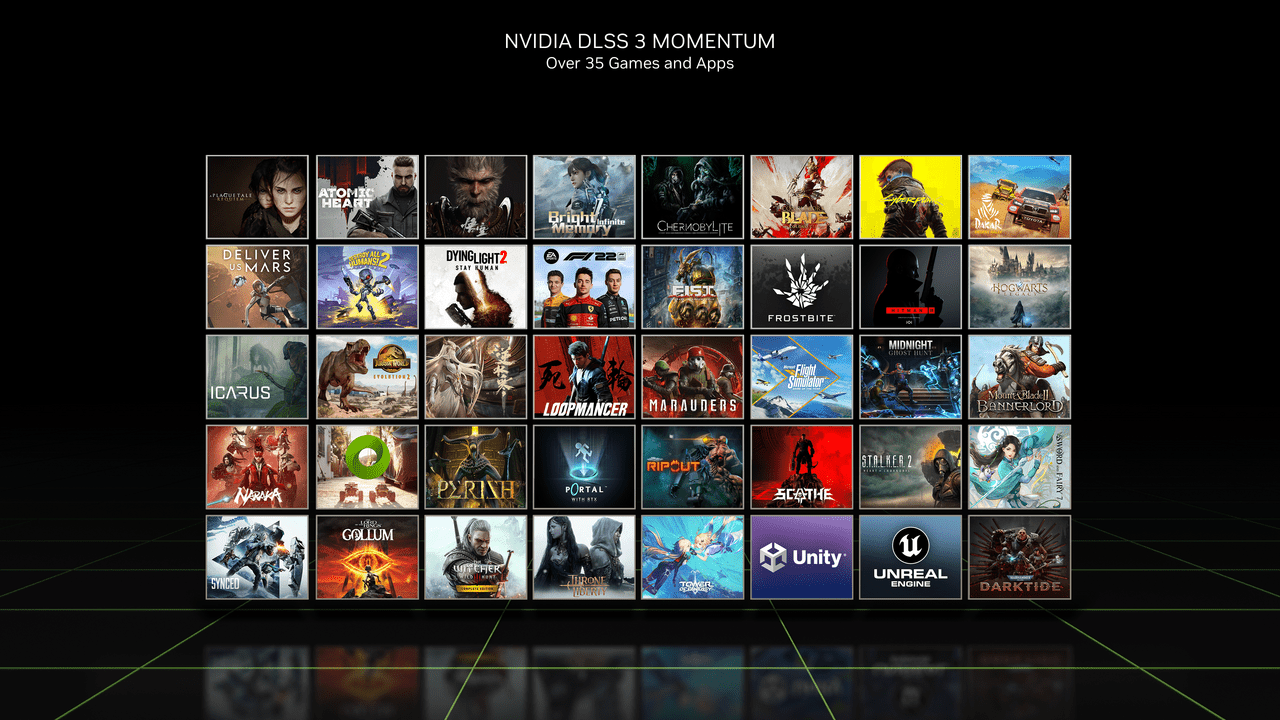 Introvert. Beer guru. Communicator. Travel fanatic. Web advocate. Certified alcohol geek. Tv buff. Subtly charming internet aficionado.