"He has roamed the wastelands, looted junkyards and fuel depots; life outside the city is not easy. But belonging to a nomadic clan also has its advantages: honesty, trust and a love of freedom – values ​​that are rarely found in Night City and that no one can buy – apply a lot here."- Description of the nomad in the selection of Cyberpunk 2077.
There are countless characters in the immersive world of Cyberpunk 2077. They have a wide variety of backgrounds and properties. From time to time they are part of a large family, company or gang. This also applies to the playable character "V". With this, the player has the possibility to choose the path of life that "V" denied before the start of his story in Night City. In today's allusion we look at the path of the nomad.
Nomads are travelers in the world of cyberpunk. You don't have a permanent address. They set up their camps wherever life takes them. This occurs mainly outside of the big cities. They mainly enter these to fulfill orders. The first nomads were former farmers who had to abandon their lands due to wars and natural disasters. Today they are convinced that it is better to stay on the road than to look for a new permanent home.
In addition, the family is the most important good for the nomads. The great clans are called "Nations" in which all the nomads are divided. There are a total of seven of these "Nations". If you choose "V" with the background of the nomad, it comes from the "Bakkers", which he obviously left shortly before the beginning of the story.
The system used
Since there are obviously huge differences in performance with Cyberpunk, which depends on the system used, we will share the details of our system and settings with you. This is important in rendering our perception and first impressions, as graphic jolts, late rendering, frame rate drops, or similar factors can break the immersion. Since we are not ruling out the possibility of this happening on other systems, we are only talking about our impressions and the impressions obtained there in terms of playability and performance.
We played Cyberpunk 2077 on a freshly assembled PC, so we experienced far fewer problems than, say, gamers on the next-gen consoles. NVIDIA's GeForce RTX 3070 and an AMD Ryzen 7 3700X are installed. Everything is stored on a 1TB SSD (1000GB PNY XLR8 CS3030). Everything runs in-game at consistently higher graphics settings, so we turned off film grain for optical preference. If ray tracing is disabled, 75 to 90 FPS are also possible, depending on the situation. But even with ray tracing on, which was set to Ultra, we're still at around 55 FPS in high-speed city traffic flow.
Before the story begins …
Before the beginning of the story, we are sent to the character editor. Here, of course, we can choose a character generated by CD Projekt Red, but of course we decide, as probably, if you have already played it, for the self-created variant.
In this regard, the player is offered an extremely wide selection of configuration options. These range from typical things like skin type, hairstyle, nose, beard, eyes or ears to piercings, tattoos on the face and on the body, cyber implants, natural or unnatural pupils and even the genitals, your full sight. can be censored. The character is wearing underwear in this case. If you decide the representations of said genitalia, then CDPR goes so far as to allow the player to determine the size of the penis and intimate hair. In the case of the female character, the breast size can also be freely selected. This extraordinary selection of settings is completed by activating or deactivating the display of the nipples.
We especially like the way it adjusts the more typical editor options. Here you do not work, as in many other games, with a slider or a kind of cuboid, but with a fixed selection. So if I want a smaller nose, for example, I choose a smaller nose. I don't have to try to make my nose smaller using the regulator without accidentally getting extremely humpy. In fact, you can choose from anything you can imagine. This includes different sizes with different deformations (or without). Again, this is not just the case with noses. There are countless mouths, various jaws, eyes, etc. We definitely don't miss the regulator.
After a while, which fortunately lasted less than initially feared, "V" looked handsome. We opted for a simple look. But crazy and extraordinary creations would also have been possible. Last but not least, hair color is an indicator of this, which can be monochromatic or colorful (for example, blue-violet) and even with a gradient.
The nomad's first impressions
Disclaimer: From this point on, you will find a short spoiler about the first few minutes as a nomad in Cyberpunk 2077. If you don't want to see the thematic introduction before starting, read on.
---
If you take the nomadic path, you will notice the biggest difference with the other options from the beginning: you are not in the city nor do you come from it. As a nomad, we start far from Night City: we are in the desert, in the badlands. On the way to a job that then takes us to Night City, our wheeled vehicle causes trouble.
As we haggle over repairs with the resident mechanic in a small town, we are greeted by the hostile town sheriff, who tries to tell us that he has put on his pants. This spoiler, which is hopefully not too big for you, shows us that we are undesirable as guests. We're just the traveling nomad, and that's how they know us. As we also parted ways with our nomadic family, the "Bakkers," in the run-up to the action, we didn't even enjoy the protection of a clan.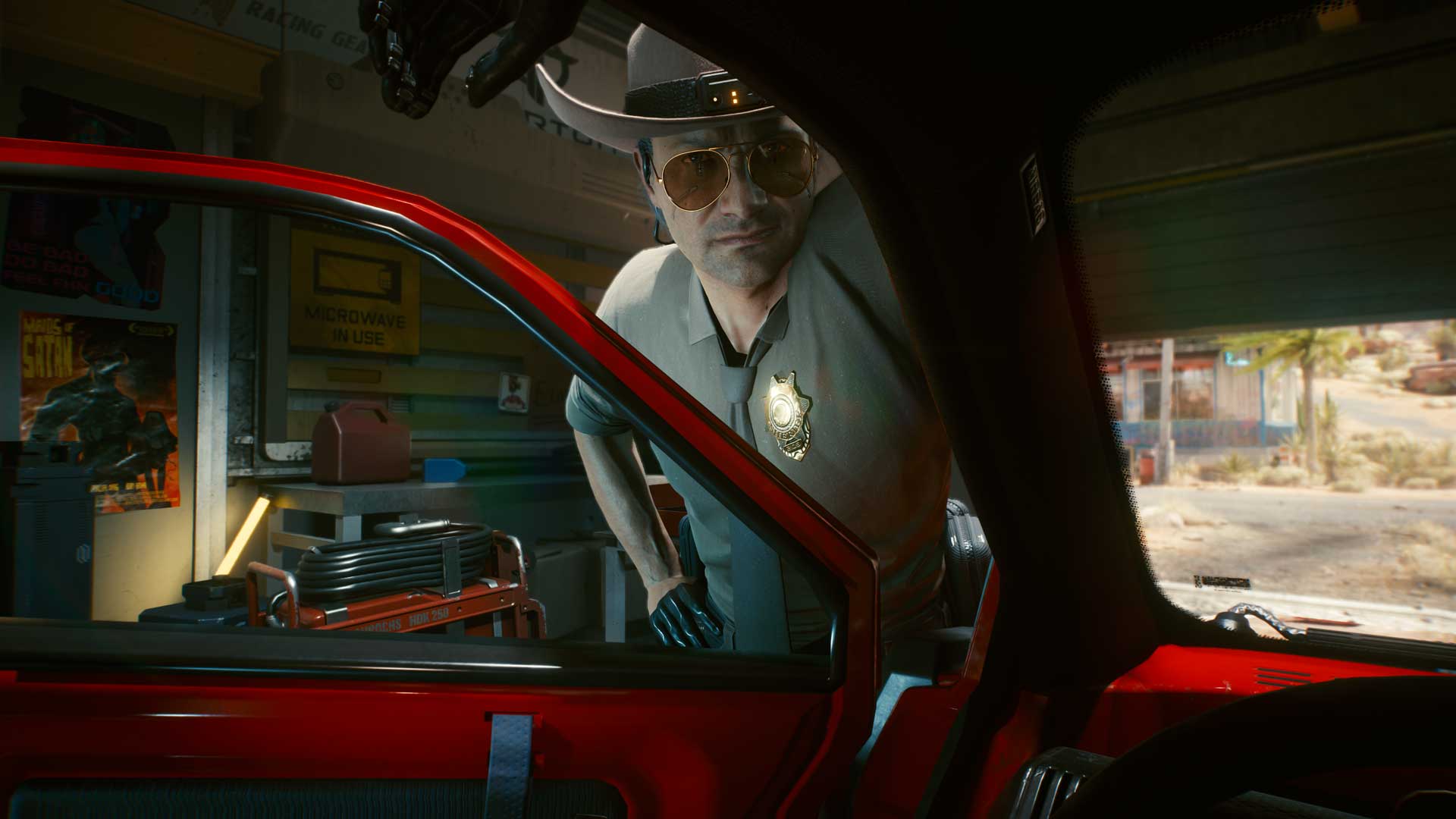 We are not just a stranger, we are nobody. And the game does its best at the beginning to make it clear to you. Jackie Welles, known from various trailers, is an exception – we become friends with him pretty quickly after our first job.
We continue to meet individual people, but it quickly becomes clear to whom we are a tool, a friend, or just dirt.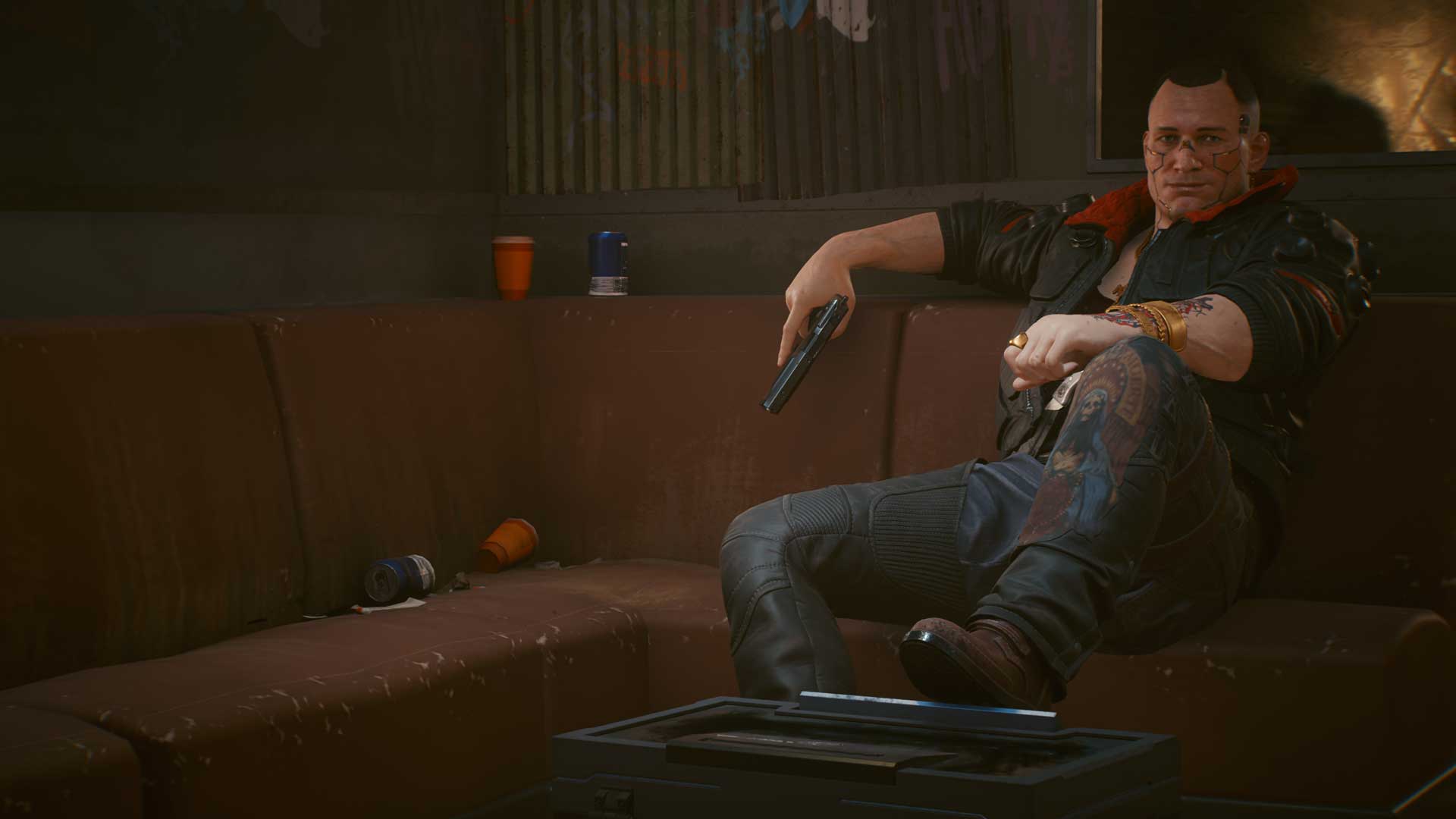 Most of this dirty and gloomy city, in which the streets are littered with trash and pessimism, react with extreme disdain to the attempt to contact them. Also, in the first few hours in Night City, you realize that there are really only three basic thoughts for people:
1. How do I get the Eurodollar? / I need more euros dollars!
2. How do I get more chromium? / How can I improve the chrome? (Chromium stands for Cyberpunk for cyberware implants, which enhance a person's physical and mental work)
3. Too rich corporations are bad and damage the lives of the poor on which their wealth is based!
Cyberpunk 2077 is, and this is typical of this literary genre, peppered with criticism of capitalism and commercialization. In a city where architecturally everything has to be made bigger and taller, the accommodation of the inhabitants of that city looks like a factory farming. Huge buildings, rooftop markets, streets running through the streets, and an oversized, dazzling billboard hangs in every free space. But why do we describe it so precisely?
Because CD Projekt Red makes us experience exactly that from the first few minutes in Night City to exactly this implementation. The developers manage to build the world of Cyberpunk 2077 in such a way that we as players immerse ourselves in the atmosphere described. And they don't just do it once, they still do it after several hours. Every time we start the game, we feel in the middle again.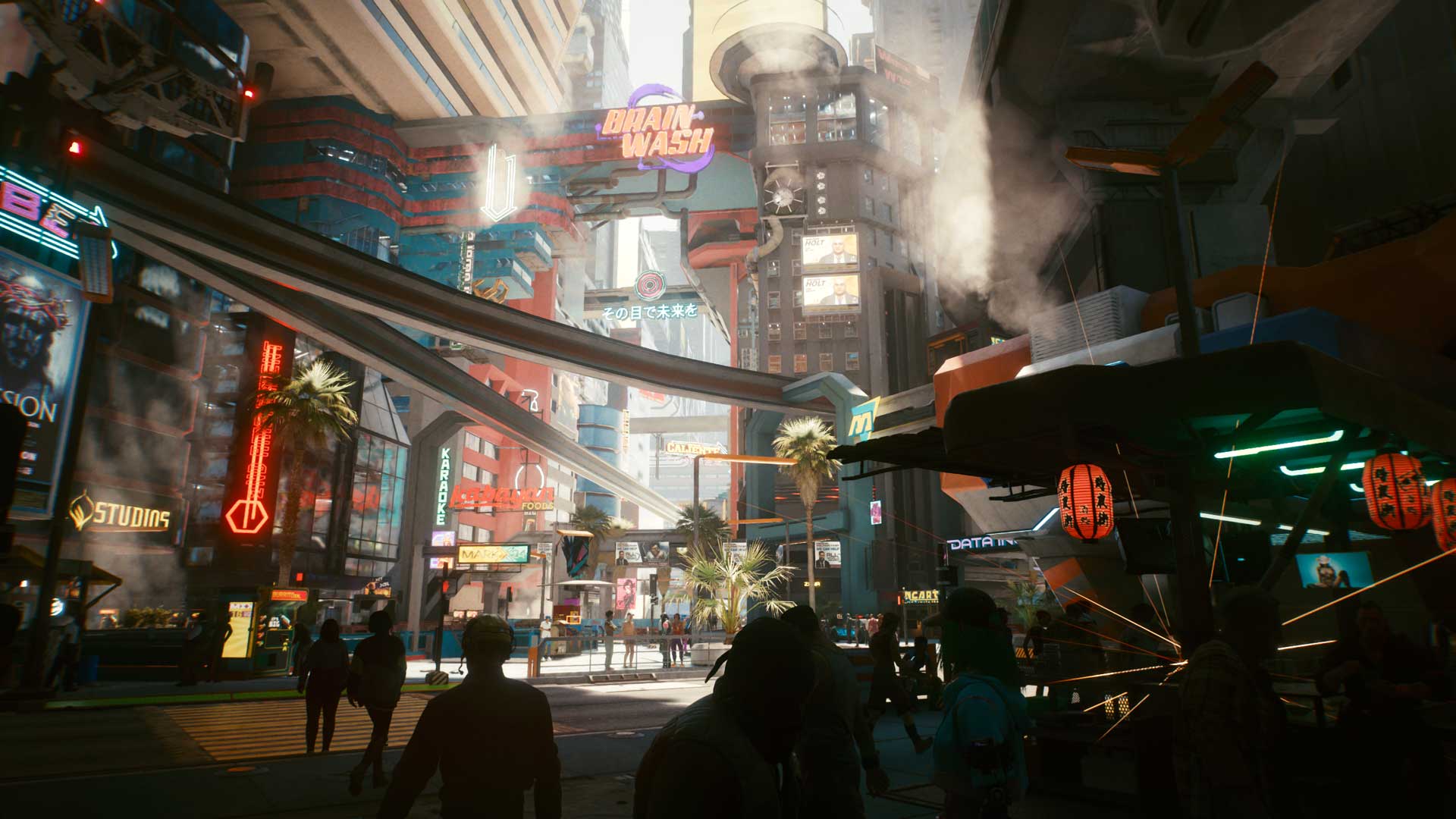 This city is so extraordinarily immersive that we quickly capture the basic feel of the city. This, in turn, affects the perception of the story and helps build depth. We understand "V," we understand "Jackie," and most of all, we understand what drives her: the only way out of factory farming seems to be success.
As that goal approaches, the real action accelerates and the tension builds. At a time when the game was just being played, we were already drawn into the spell of the story and curious to keep playing.
More prints in the gallery
---
About Cyberpunk 2077
With Cyberpunk 2077, CD Projekt RED's next big game was released on December 10, 2020 after several postponements. After the great success of The Witcher 3, the new game takes you into a dazzling world of dark science fiction. Cyberpunk 2077 is an open-world action adventure that offers the player great freedom and complex character development.
With eight million pre-orders distributed on the platforms of PC (Epic, Steam, GOG), PlayStation (PS4, PS5) and Xbox (One X, Series X / S), the developer and publisher has been successful in one of the releases. of the biggest and most important games of all time. . Various content expansions and a next-gen optimized version will follow in 2021. Attention: As of December 18, the game is no longer available on the PlayStation Store due to technical difficulties.
display

similar posts
Introvert. Beer guru. Communicator. Travel fanatic. Web advocate. Certified alcohol geek. Tv buff. Subtly charming internet aficionado.