An absolute high-end APU from AMD has been under discussion for years, now it could come: in the form of a modification of the Instinct MI300. The new edition of the recently introduced Instinct MI200 variant, which is explicitly designed as an accelerator for supercomputers, could open up a whole new product class.
Talking about it for years…
In 2015, the concept of a "mega-APU" first appeared, back then it was an exascale vision with 32 cores, GPU and stacked DRAM. Basically, the rumors were correct back then, because the development continued in this direction in the next few years, although now they have been supplemented and expanded by the appropriate new possibilities: first of all, the chiplet technology at AMD and probably also at the future stacking. . Particularly noteworthy a 2017 presentation from AMD Research with the title "Design and Analysis of an APU for Exascale Computing".
… and now maybe finished?
And that is exactly where the Instinct MI300 will be developed as a final product, according to the latest rumours. It is no longer just a pure graphics accelerator based on CDNA3, as the branch of RDNA3 developed in parallel for the professional sector is called, with a fast HBM next to it, but it will also bring its own CPU cores and thus become a kind of of APUs.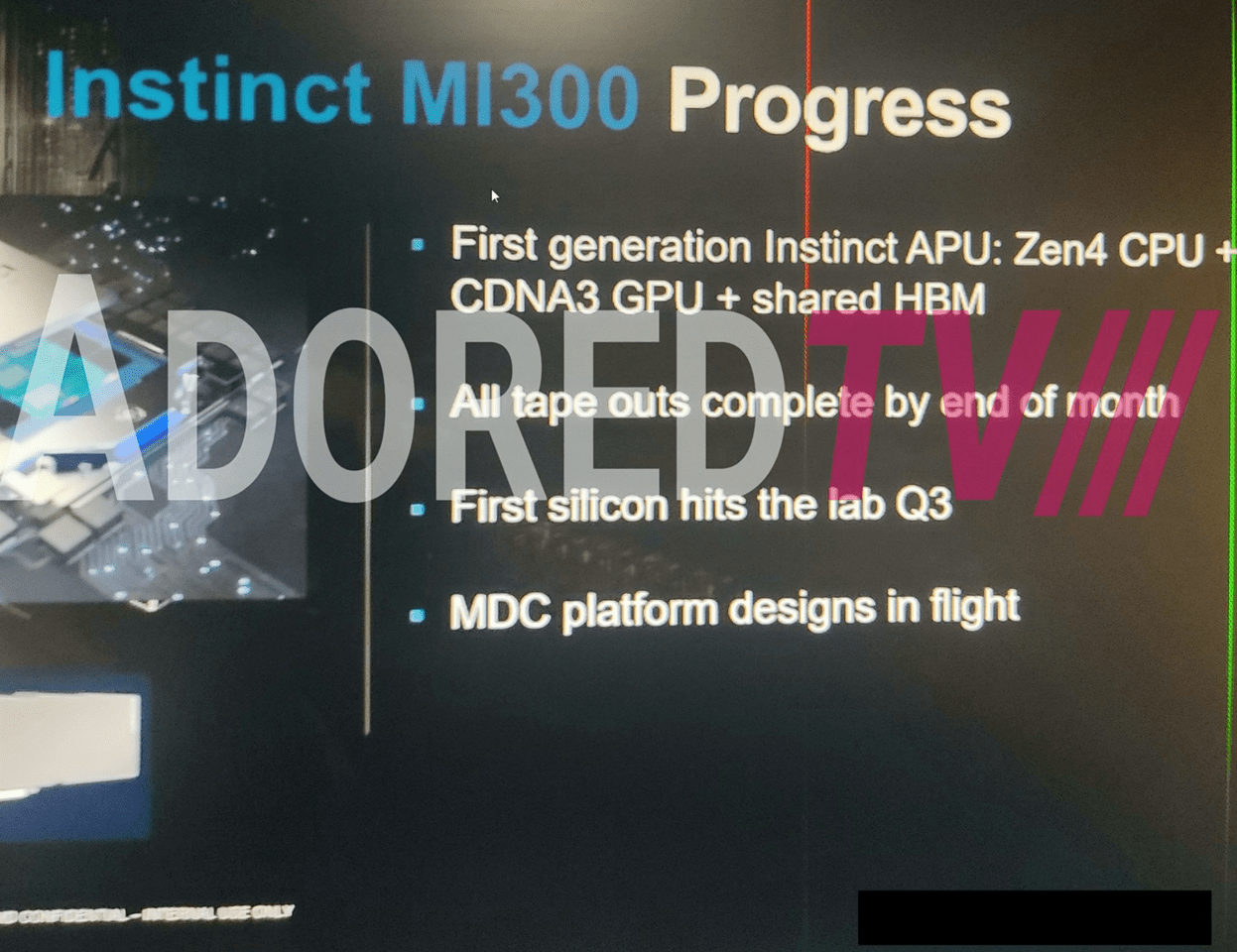 There have been various rumors in this direction lately. these had various variants of the Instinct MI300 put into play, the version as an APU would probably be next to the pure classic GPU solutions and would complement the portfolio.
The tapeouts should be completed within these months (a slight delay is being discussed, as is currently the case everywhere), and the finished silicon should be working in the lab before the end of this year. It usually takes a good year before products are available, as long as all testing goes as planned.
Such a special solution is unlikely to be available to everyone, an additional foundation should probably provide housing. "SH5" appeared here last fall, which was assigned to the Zen 4 but also to the MI300, but it was not possible to classify it yet. Now, however, a picture might slowly emerge from this. As usual, such rumors should be treated with caution.
There is a server socket called "SH5" which has CPU with CPUID 0xA80F00… called "MI300"

— ExecutableFix (@ExecuFix) September 16, 2021
Introvert. Beer guru. Communicator. Travel fanatic. Web advocate. Certified alcohol geek. Tv buff. Subtly charming internet aficionado.