You can really do everything with a smartphone: write messages, read news, take photos and videos, watch movies, download and also music. No matter how limitless the pleasure is, the memory is not. These tips will help you if your smartphone or cell phone memory is full.
Get an overview
This tip won't solve your problem, but it will help you. Get an overview of what is primarily using memory – photos, apps, or other media. This overview helps you follow the correct steps.
How to check what is consuming the memory of the smartphone
Remove unnecessary apps and media
With Speicher it's like cleaning your own four walls in the spring. Full is packed so cleaning only helps. The first thing to do is check if there is any unnecessary ballast on board. On the smartphone, these are applications that you no longer use anyway. Some applications can occupy several hundred megabytes of memory. That is why you need to delete the unused apps.
Deleting videos is a bit more complex, but definitely profitable. Of course, you only have to choose those that you do not want to keep, for example because they are unimportant, failed or unwanted recordings. But the search is worth it. Videos consume a lot of memory. You can also do the photo process. This can also be useful if there are many recordings.
This is how you delete apps
ios: A small menu appears when you press and hold the application symbol. There select "Remove application".
Android: The process is very similar on Android. Depending on the version of the operating system, the entry is called "Remove" or "Uninstall", as is the case with Samsung. On some systems, to remove the application, you must drag and drop it into a small box at the top of the screen labeled "Remove" or "Uninstall."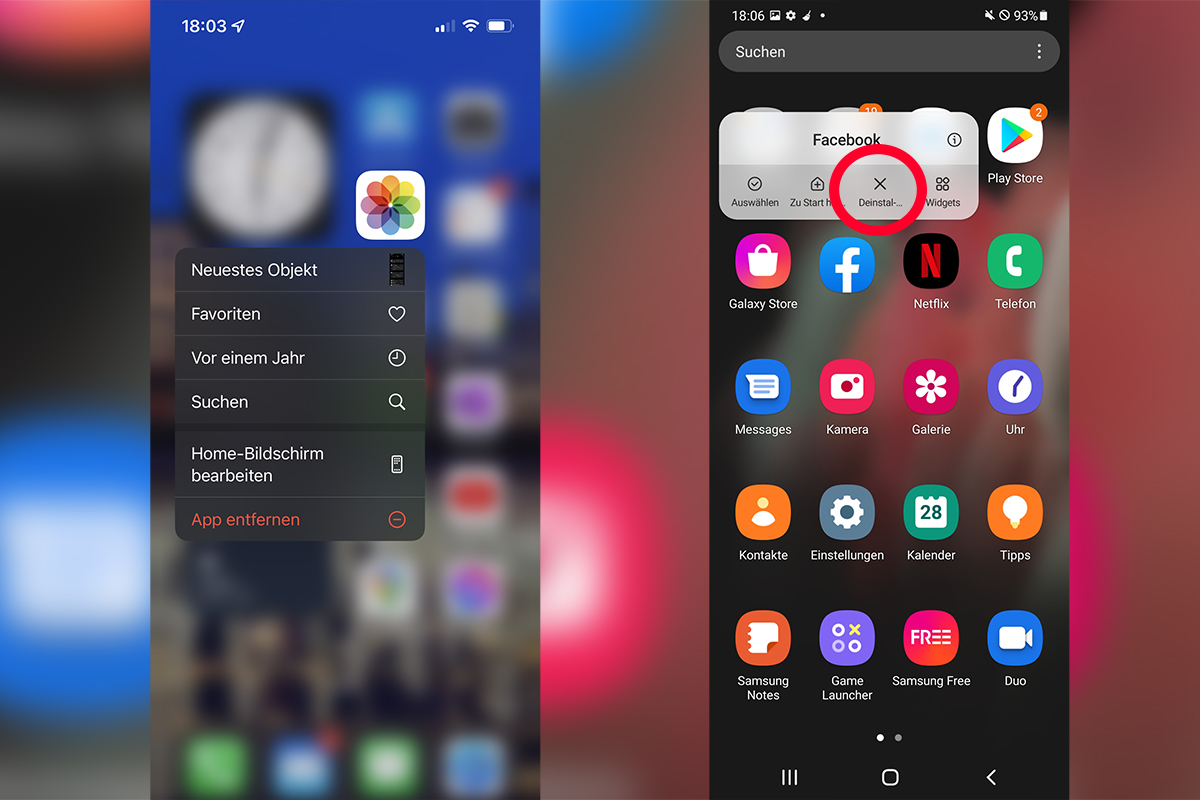 How to delete videos and photos
ios: On the iPhone, select the "Photos" application. Despite the name, the video recordings are also hidden here. Press "Select" in the upper right corner and select one or more photos and videos and then click on the trash can in the lower left corner. Confirm with "Delete objects".
Android: Depending on the Android version and the mobile phone manufacturer, the videos are hidden elsewhere. Usually the application is called "Gallery" or "Photos". If you long-press a recording, it will be marked with a check mark. Now you can also bookmark other videos and photos by tapping. Then select the "Delete" function above or below, which is usually marked with a recycle bin, and confirm the subsequent query.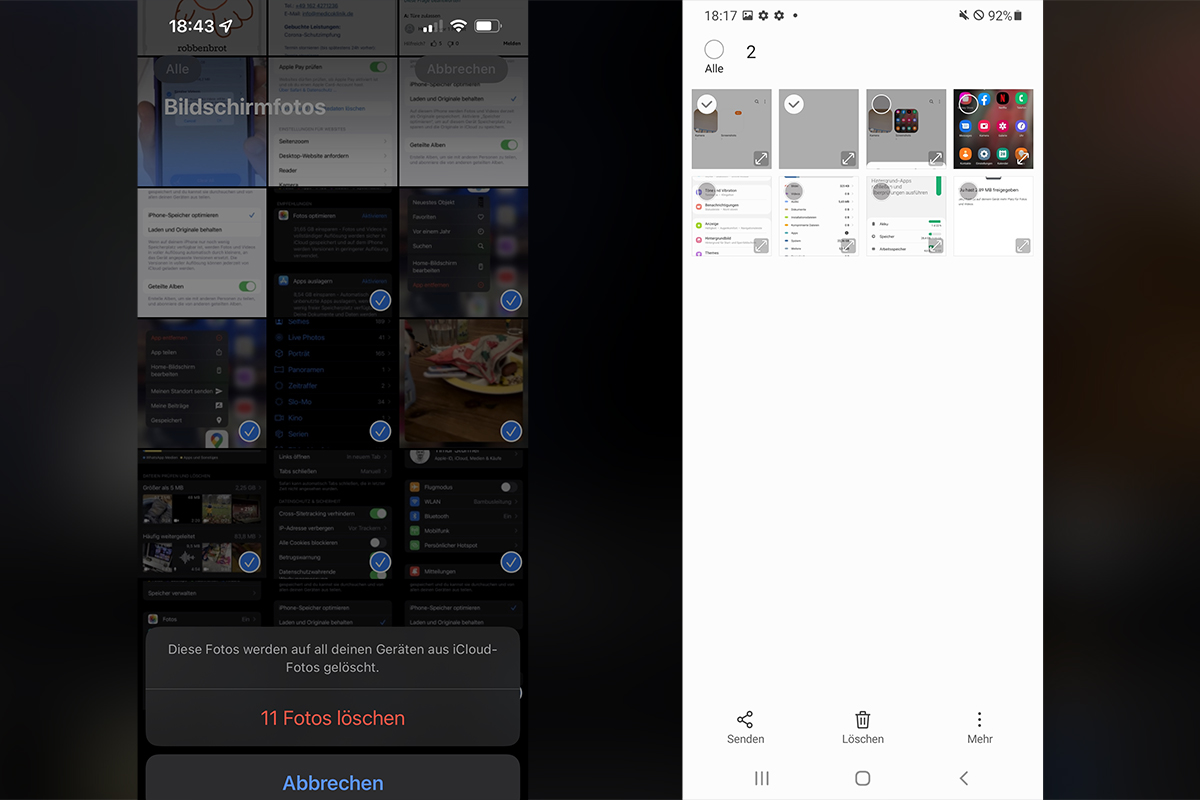 Back up photos and videos externally
If you don't want to get rid of the photos and videos forever, but you don't need them on your smartphone, there is an alternative way: Back up the files to a computer. Once the photos and videos have been backed up, you can delete them on your phone to free up storage space again.
How to Backup Photos and Videos to Computer
Android / iOS: The process is almost identical on both systems.
Connect the powered-on smartphone to the computer with the USB cable.
A query should appear on the iPhone as to whether this PC can be trusted. Confirm with "Allow". On Android, you may have to scroll down the mobile phone menu bar from the top and look for an entry that says "Charge via USB" or something similar. If you touch it, you can now select the entry "Data transfer".
In both cases, the smartphone should appear on the computer in Windows Explorer under "Devices and drives." Click on it, then "Storage" and then open the "DCIM" folder, where all the photos and videos you have taken are located.
Highlight the desired media, right-click on it, and choose Copy.
Also right click on a folder of your choice and select "insert".
---
---
Whatsapp lose weight
WhatsApp is still the most popular messenger in the world. However, it also has its downsides. A double-edged sword is the automatic storage of received files. Every photo and video secretly ends up on your local data storage device and takes up valuable space, even if you delete them from the photos or gallery app (see tip 1). It's not uncommon for WhatsApp to be in the top 3 of the space-consuming ones (see tip 0). Most of the media are usually funny snapshots that you don't want to keep for the long haul.
How to delete useless photos and videos from WhatsApp
Conveniently, WhatsApp now has built-in memory management. To do this, go to "Settings" and "Manage storage". Now there are several options: You can delete files larger than 5 megabytes to be the first to remove large memory hogs. It is almost exclusively about videos. Or you can look at the chats listed below to see what content you want to remove from them.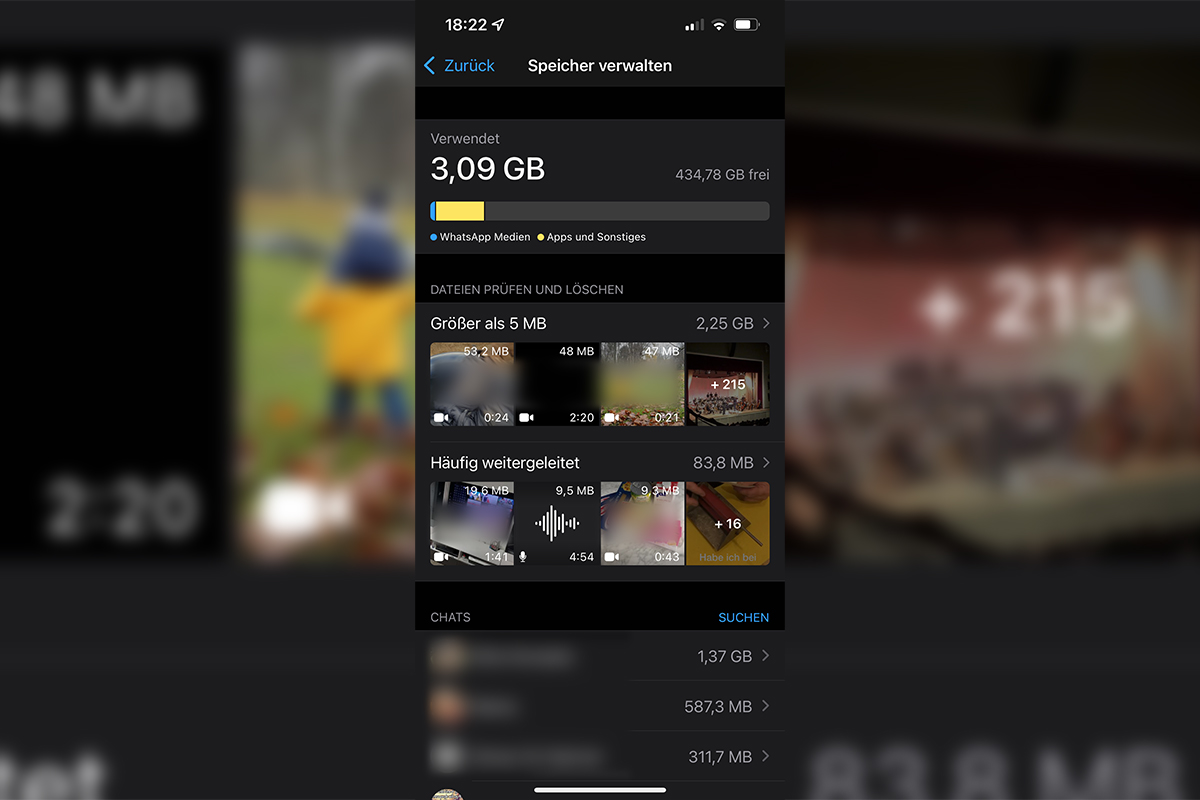 ---
Do you want an alternative to WhatsApp Messenger? The choice is not very wide, but there is one.
---
Delete junk files
When browsing, downloading and more: unnecessary files just accumulate on the smartphone through use, such as cookies, temporary or damaged or outdated files and more. So-called junk files are unnecessary and cost memory. So go with the garbage.
How to delete junk files on a smartphone
Android: A popular application for Windows computers is also available for Android smartphones: CCleaner. You can get over it download this link or get it yourself from play store. After that, follow the few steps in the app to clean up the memory.
ios: CCleaner is not available on iOS and the alternatives are usually paid, at exorbitant prices. However, Apple's operating system handles garbage handling automatically, so there is less to clean up than on Android. If you want to help, you can:
TO Restart flushes the cache and often fixes bugs.
More effective to have more memory is the elimination of the so-called Cache des Safari-Browsers. To do this, go to settings and look for "Safari" a little further down the list of applications. There is the entry "Clear history and website data". warning: As the name suggests, this also deletes the browser history, that is, the pages last visited.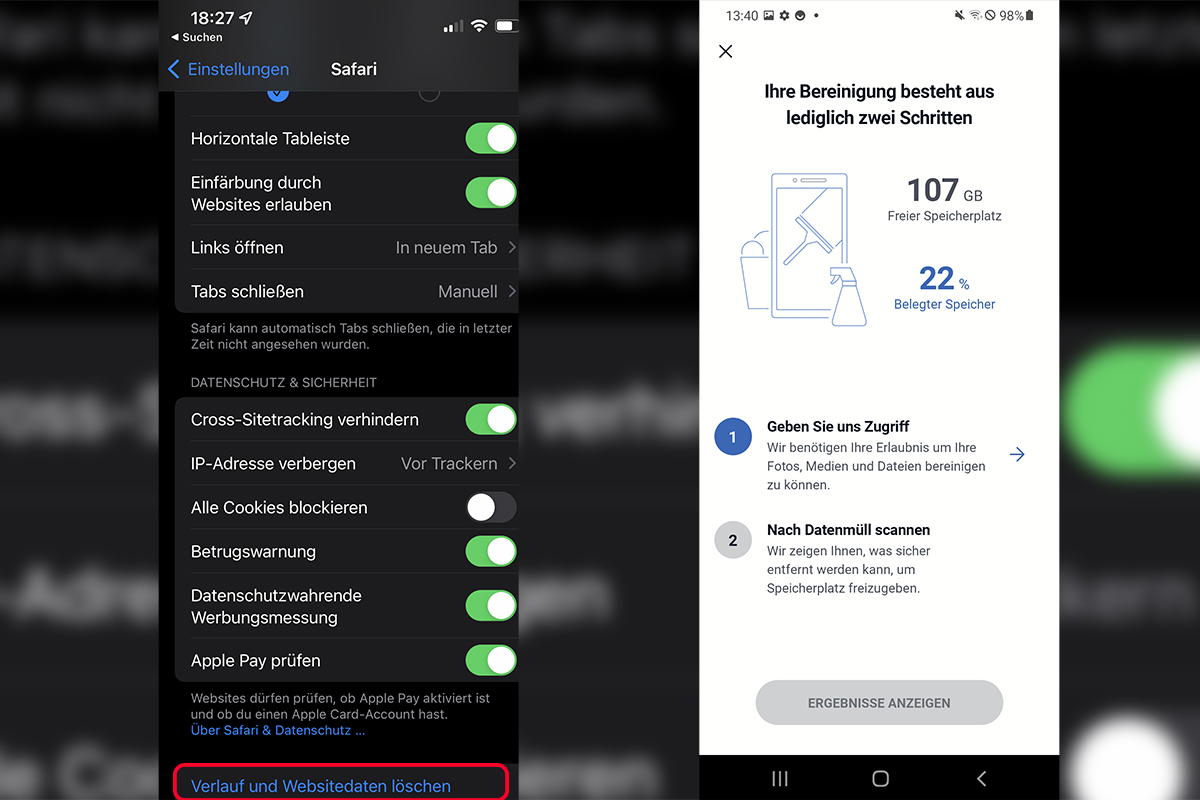 ---
CCleaner PC optimization tool completely and safely removes junk data from PC in one go. The new version is now available in the Microsoft Store.
---
Full memory? Tip: to the cloud
With cloud services, you save your files on a server, for example at Google, Microsoft or Apple. Reservations about storing private and highly personal data, such as vacation photos, may deter some users. A cloud service has unbeatable advantages:
Files can be accessed from any computer from anywhere through a browser; all you need is your login and password.
Cell phone theft or total loss is still annoying, but data in the cloud remains safe.
If the cell phone memory is full, photos can still be backed up.
The cloud relieves cell phone memory with additional functions.
The provider you choose is up to you. In general, the following applies: Depending on the operating system, internal services are better integrated. For Android there is Google drive about. Auto upload can be activated for photos and videos and Android users usually already have the necessary Google account anyway. Up to 15 gigabytes of storage are available here for free.
For Apple iOS is suitable iCloud. The service is deeply anchored in the operating system. Therefore, it is particularly convenient to back up photos, videos, and device settings. However, only 5 gigabytes of storage space are free.
---
---
How to Backup Photos and Videos to the Cloud
iCloud: If you haven't already done so when setting up iPhone, you can turn on iCloud in settings. To do this, press directly on the previous settings in your profile (provided with your username), then on iCloud. Here, depending on the application, you can choose what should end up in the cloud. Under "Photos" you will also find the item "Optimize iPhone storage". This will give you additional storage space on the iPhone.
Google drive: The app is on most Android smartphones Google photos, which is based on Google Drive, already installed. Both iPhones and Android devices can get the app from the corresponding app store. If you start the application for the first time, you will be asked if you want to backup your photos and videos. Also, you can gain memory. Photos are uploaded to the cloud and deleted from the smartphone. They can still be accessed as long as the device has access to the internet and the Google Photos app. To do this, press your profile symbol in the upper right corner, then "Free up space" and confirm with the blue button below.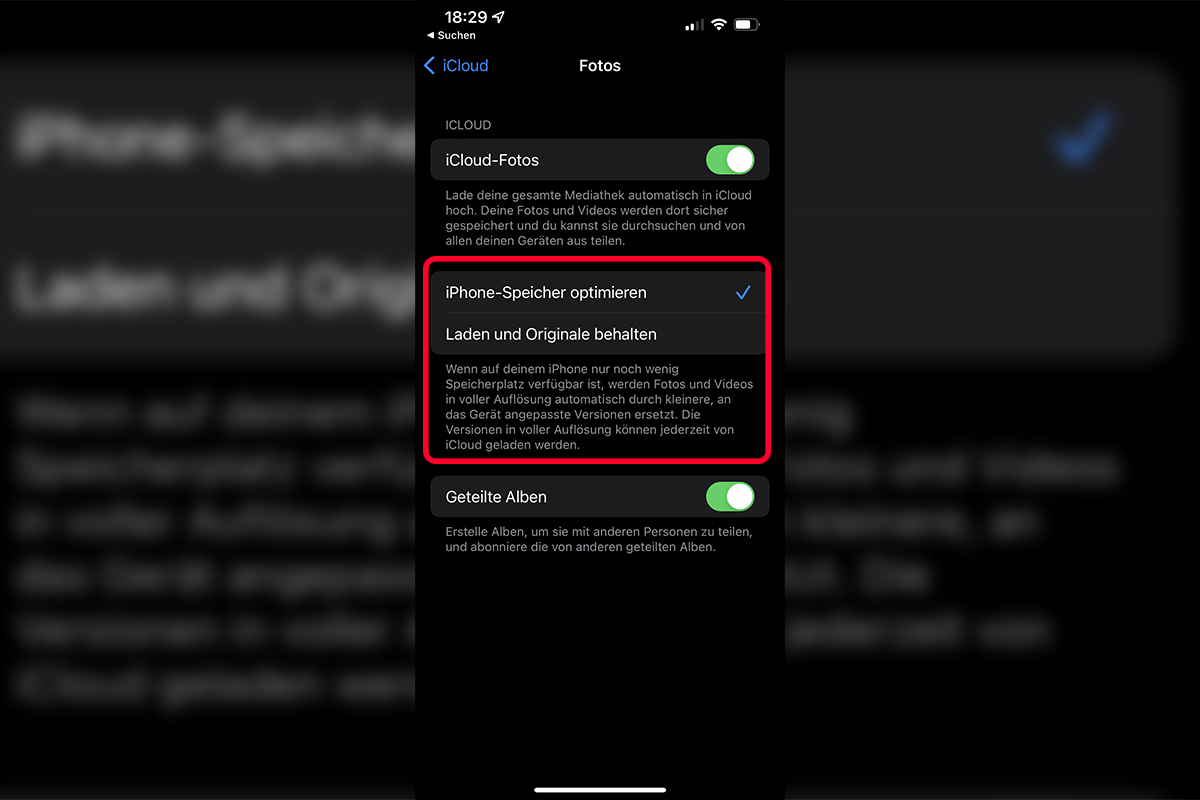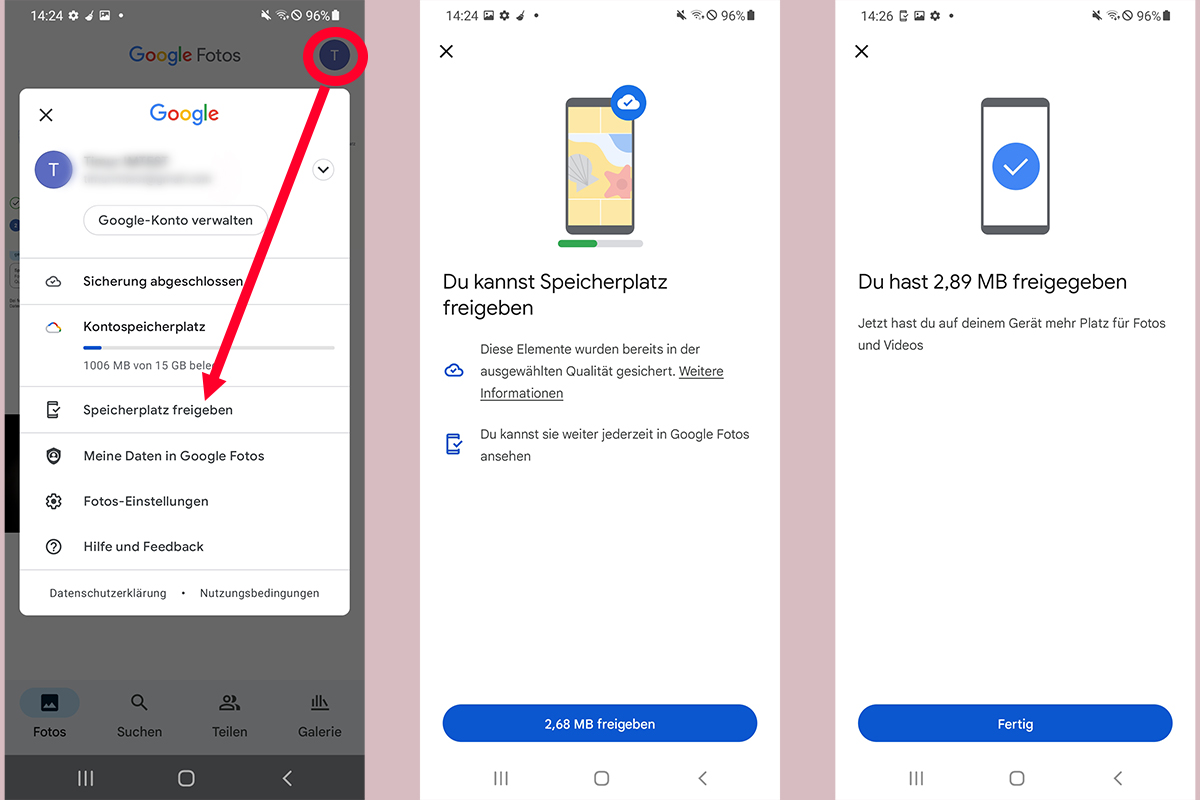 Professional bacon fanatic. Explorer. Avid pop culture expert. Introvert. Amateur web evangelist.