Windows 11 Insider Preview Build 22557 previews Windows 11 22H2 with many new features, including folders in the Start menu, new touch gestures, improvements to Windows Explorer, and live subtitles. However, the detailed improvements go even further with this version.
Preview with numerous innovations
After a two-week hiatus, Microsoft has the new 10.0.22557.1 ni_prereleaseis the full name of the Windows 11 Insider Preview Build 22557 update, released on the Dev Channel, which is aimed in particular at developers and experienced users.
The update, which provides a preview of the Windows 11 Fall Update ("22H2") expected later this year and beyond, has the following highlights for Insiders:
Folders can now be created in the start menu
Enhanced live subtitles for video playback
Redesigned task manager with dark mode
Five new touch gestures to navigate
New instant layouts for more organization
Advanced power settings
Improved quick access
With Insider Preview Build 22557, the Dev Channel is also switching from the development branch for the first time. rs_prerelease about him ni_release. Microsoft has more information about this in the windows blog summarized.
Microsoft now brings more order to the Windows 11 start menu, because with the new preview it is possible for the first time to create folders in the new start menu of the operating system and group applications in them.
However, the folders that have been created cannot yet be customized, ie named and renamed. This feature should be added in one of the next previews.
Live subtitles for videos in the browser
New Live Captions help everyone, including the deaf and hard of hearing, better understand audio content by displaying closed captions on spoken content. Subtitles are automatically generated from any audio content played in the browser if desired.
Live subtitles are currently limited to the Edge browser and are currently only available in the US. The feature will be further expanded in the future and available in additional regions.
New task manager with dark mode
Editors had previously reported on the new task manager with dark mode, now Microsoft is introducing the OS's own process manager with a new user interface and dark theme for the first time in an official Windows 11 preview.
The new task manager is based on the Windows 11 user interface and no longer looks like a foreign body. Microsoft is clearly trying to ensure OS consistency and has already revised Paint and the editor accordingly.
New touch gestures for better navigation
Microsoft is also introducing new touch gestures for even better navigation through touch operation. Access to the start menu, notification center and system tray will be made easier.
In the course of upcoming developer previews on the Dev Channel, Microsoft wants to introduce more touch gestures and expand this area even further in the future.
Improved Instant Layouts for more organization
Microsoft also significantly revised the instant layouts for organizing open windows and apps, and introduced a new way of "snapping" that should ensure more order faster.
To invoke instant layouts, an open window must be dragged to the top of the screen, then the window can simply be dropped onto one of the appropriate zones.
More improvements
Microsoft has also improved power settings and recommendations based on them for more efficient operation. Also, a small icon on the taskbar now shows which application windows are shared with other users via the "Share" feature.
Officials give more information release notes.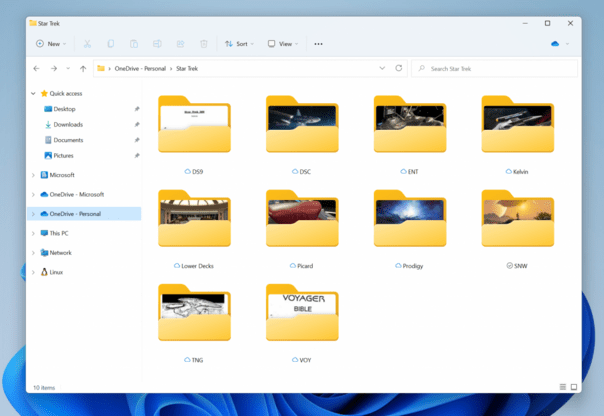 Detailed improvements to Windows Explorer, such as thumbnails for folder content and better Microsoft One Drive integration, round out the comprehensive build 22557 update.
Windows 11 for download at ComputerBase
I like the overview of all preview versions through the Microsoft Flight Center reveals, Insider Preview Build 22557 takes the place of Insider Preview Build 22543 on the Dev Channel, while consumers on the Beta Channel have been receiving the new build 22000.466 as an official beta since January 14.
Microsoft has released build 22000.318 as a system image (ISO), which is linked directly below this post as a download.
With the help of the also linked cumulative update KB5010386, which also contains the current servicing stack update (SSU), the operating system can be directly updated to build 22000.493 after a fresh install. Optional update KB5010414 bumps Windows 11 to build 22000.527.
downloads
4.0 stars

Windows 11 ISO files can be used to create bootable installation media.

Version 21H2 (Build 22000.318)

German

4.3 stars

Regularly updated packages with all security updates and bug fixes for Windows 11.

Version 21H2 (Build 22000.493) KB5010386, Win11

German

Version 21H2 (Build 22000.527) KB5010414 Preview, Windows 11

German
Introvert. Beer guru. Communicator. Travel fanatic. Web advocate. Certified alcohol geek. Tv buff. Subtly charming internet aficionado.