The creators of the SiSoft Sandra analysis tool are optimizing their software and are also testing Intel's upcoming Raptor Lake CPU. Thanks to more cores and threads, it goes up quite a bit in some synthetic benchmarks, but the bottom line is that it's ultimately just the optimized version of Intel Alder Lake.
In classic ALU/FP tests, the pre-series model already performs very well. AMD Ryzen 9 5900X has finally been able to outperform in all areas, but above all for significant gains compared to in-house CPUs. Some values, like the classic Drystone FP32 result, even show a 50 percent increase from the Intel Core i9-12900 to the Intel Core i9-13900.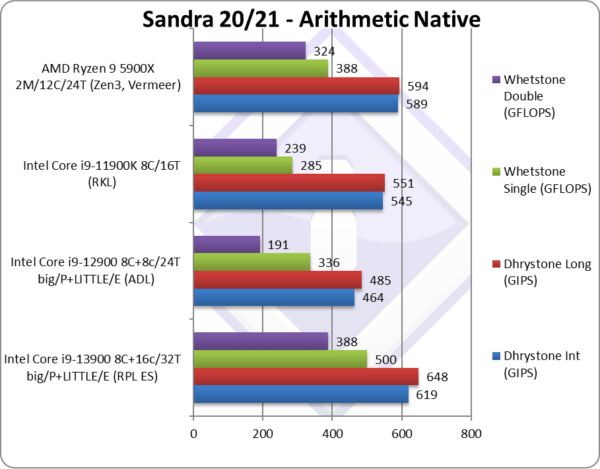 In the case of vector-based calculations, the improved results are no longer as pronounced. Additional small electronic cores generally don't help here, and Raptor Lake is still behind Rocket Lake, aka Core i-11000 in some cases; no more AVX-512 is the most important reason here.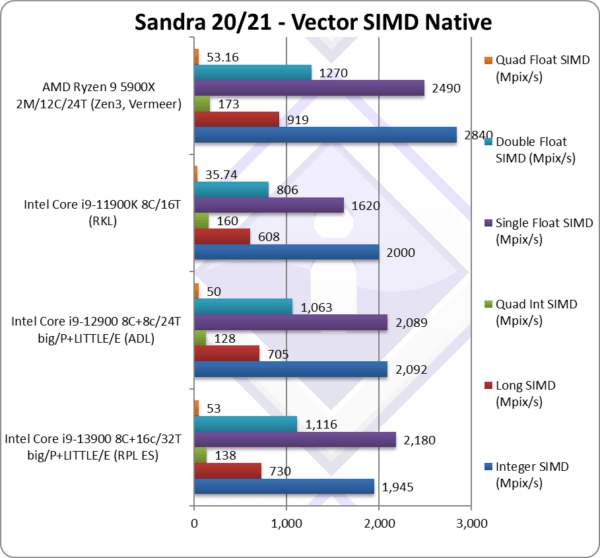 In the end, the developers conclude that Raptor Lake will be a nice improvement over Alder Lake, but ultimately nothing more. Because the manufacturer has opted for eight additional E-Cores to primarily provide more threads. Another alternative would have been to expand the P cores by two, eg: a 10P+8E build would have been possible with the same space requirement. That would have resulted in an interesting 28 thread CPU. However, this could have quickly exceeded the TDP framework, because Raptor Lake has to fit into the 250 watt TDP corset with the power consumption of the P cores – the Intel Core i9-12900KS (test) has recently shown that this with eight cores is exhausted.
Ultimately, Intel's appearance also matched this. There was hardly any talk of Raptor Lake anymore, the focus was always on the Intel Meteor Lake product after the next. Here comes into play a completely new approach with multiple chips in a single package, partially manufactured on Intel 4, the first proprietary EUV solution. Intel is currently revealing the first details about this stage of production.
Introvert. Beer guru. Communicator. Travel fanatic. Web advocate. Certified alcohol geek. Tv buff. Subtly charming internet aficionado.