According to the first GTC trailer, it was actually planned for November, but the new ray-traced edition of Portal, also known as "Portal with RTX," will now launch on December 8, as Nvidia announced today. The system requirements are very high: for 1080p60 you already need a GeForce RTX 3080 with active DLSS 2, for 4K even more.
Portal with RTX is planned as a free DLC for all Portal owners and can be downloaded Already wishlisted on Steam Add. The new ray tracing edition was created using the RTX Remix mod tool introduced at the GTC, which is supposed to automatically polish older games and give them higher resolution textures and features like ray tracing. RTX Remix should be offered as a free community tool and also run on older graphics cards as well as the newer RTX 4000 series (test).
Portal with RTX available on December 8
The first release developed with the new tool is Portal with RTX on December 8, reimagining Valve's 2007 classic with ray tracing for high-quality reflections, new lighting, and revised shadows. There are also new higher resolution textures and models that are supposed to react realistically to ray tracing.
System Requirements for Portal with RTX
The game demands a lot from the hardware, especially in the area of ​​the GPU, as can be seen from a table published by Nvidia. For 1080p30 on "High" graphics settings you need a GeForce RTX 3060 with 8 GB and DLSS 2 active. For the CPU, the manufacturer calls for an Intel Core i7-6700 or AMD Ryzen 5 3600, 16 GB of RAM and 25 GB of storage. required space on an SSD.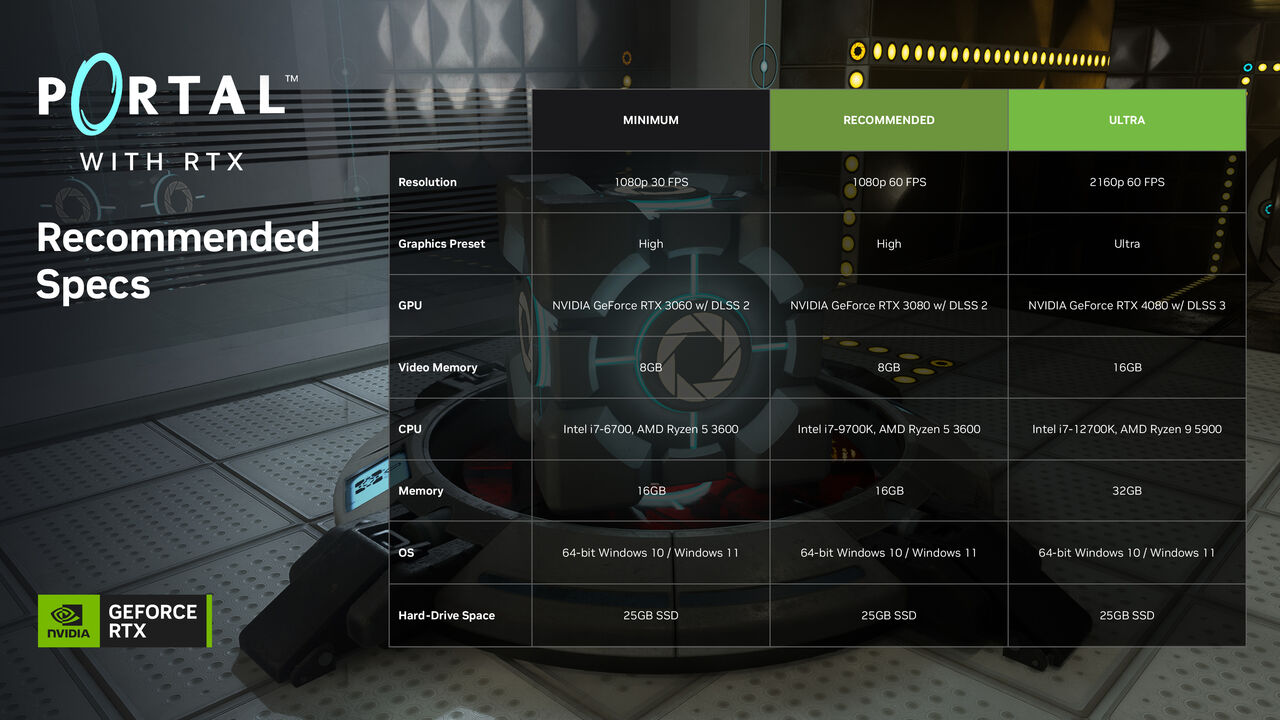 If you want to play 60 FPS in Full HD, you already need a GeForce RTX 3080 (test), 8 GB of VRAM and you have to activate DLSS 2. The CPU requirements go up to Intel Core i7-9700K or AMD Ryzen 5 3600. Without However, the system requirements for RAM and SSD remain identical to the base for 1080p30 at 16GB and 25GB.
4K60 only with GeForce RTX 4080
For 4K with 60 FPS, nothing less than the currently second fastest Nvidia graphics card behind the GeForce RTX 4090 is sufficient in the ultra graphics preset: the GeForce RTX 4080 with 16 GB (test) and DLSS 3 active. Nvidia recommends an Intel Core i7-12700K as processors or AMD Ryzen 9 5900, this time said to be paired with 32GB of RAM and 25GB of storage on an SSD.
In order to play Portal smoothly regardless of resolution and graphical preset, DLSS is practically mandatory, as the following video also shows, in which Nvidia shows an FPS counter that stays below 30 FPS even without this technology. AMD or Intel graphics cards are not included in the system requirements, although Valve itself only mentions a DirectX 12 or Vulkan graphics card with support for DXR or Vulkan Ray Tracing as a requirement.
Prior to the game's release on December 8, Nvidia will host a launch party on December 6 at 7pm PT on Twitch and Steam to highlight the game's development and showcase new gameplay. Portal keys will also be given out and a GeForce RTX 4090 will be raffled off.
Introvert. Beer guru. Communicator. Travel fanatic. Web advocate. Certified alcohol geek. Tv buff. Subtly charming internet aficionado.