In Value Electronics' 18th TV Contest (Benchmark), QD-OLED TVs from Sony and Samsung were able to hold their own against competing devices.
After a two-year hiatus, a TV shootout has finally taken place again, that is, a head-to-head comparison test of what appeared to be the best TVs at US electronics retailer Value Electronics. During the event, five 4K TVs and three 8K TVs were put to the test. All devices are professionally calibrated and "masked" before direct comparison so that the jury cannot recognize the devices by their design. It was particularly interesting because the new QD-OLED and mini-LED TVs were able to compete against OLED TVs, which had not been beaten in recent years, for the first time. The following television studios had to face the trained eye of the jury:
4K shooting
Sony 4K A95K QD OLED TV
Samsung 4K S95B QD OLED TV
LG G2 4K OLED TV with Evo panel
Sony X95K 4K LCD Mini LED TV
Samsung NEO QN95B 4K QLED LCD Mini TV
8K shooting
LG Z2 8K OLED TV
Sony Z9K 8K LCD Mini LED TV
Samsung QN900B 8K QLED LCD Mini LED TV
Sony and Samsung convince thanks to QD-OLED
When it comes to TVs with 4K resolution, models with OLED screens have always been able to take the top places in recent years. Sony was particularly successful, generally relegating "father of technology" LG Electronics to second place. It's similar this year, only this time Sony takes the top spot with the A95K's QD-OLED technology!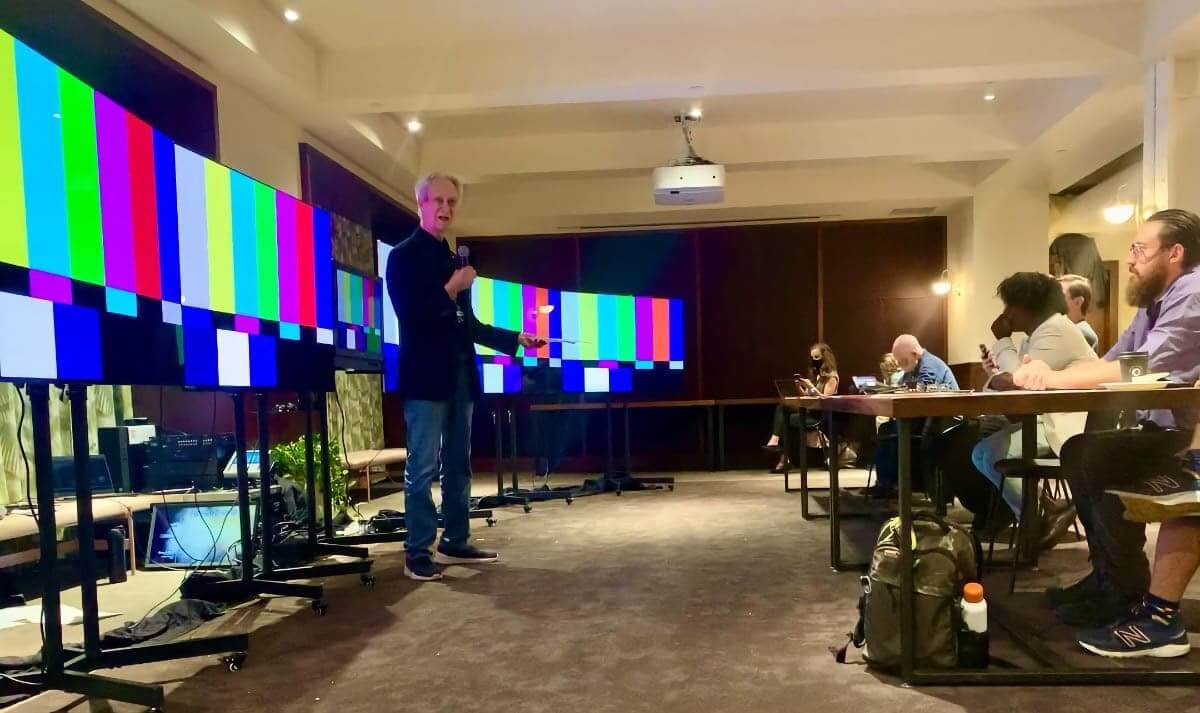 If you now think that the Japanese manufacturer would also have come first with Sony's normal OLED TV, you should take a closer look at second place. Because the Samsung S95B, also with QD-OLED technology, was able to win the "silver medal". Samsung should be doubly happy about this success. On the one hand, QD-OLED was able to outperform LG's "normal" WRGB OLEDs, on the other hand, the Korean TV manufacturer has finally secured a place on the podium again!
LG OLED loses to QD-OLED
In third place we find the LG G2 Gallery OLED Evo TV, followed by the Sony X95K with LCD Mini-LED and finally the Samsung QN95B NEO QLED TV with Mini-LED. It's almost as if Samsung just needs to put a little more effort into optimizing the image processor to compete with Sony next year. Because many ratings, such as in the areas of "motion," "upscaling," or "color accuracy," indicate that Sony is still doing a better job here. By the way, the placement of 4K TVs resulted from the following endpoint ratings:
8.9 points | Sony 4K A95K QD OLED TV
8.3 points | Samsung 4K S95B QD OLED TV
7.9 points | LG G2 4K OLED TV with Evo panel
7.5 points | Sony X95K 4K LCD Mini LED TV
7.4 points | Samsung NEO QN95B 4K QLED LCD Mini TV
There was less competition with 8K TVs, but there was a very clear distribution of points. Sony and Samsung's mini-LED-backlit 8K TVs couldn't do much against the LG Z2 8K OLED. The OLED only lost points in the "maximum brightness" or "high APL value" test categories. However, the final rating speaks for itself:
8.2 points: LG Z2 8K OLED TV
7.8 points: Sony Z9K 8K LCD Mini-LED TV
7.5 points: Samsung QN900B 8K QLED LCD Mini-LED TV
It's good to see that TV technologies are not finished yet and there are always surprises. In our opinion, TV shooting is always a good indicator to assess the quality of individual products. However, one should not only look at this rating when making a purchase decision, as end-customer usage scenarios can be highly individual.
Introvert. Beer guru. Communicator. Travel fanatic. Web advocate. Certified alcohol geek. Tv buff. Subtly charming internet aficionado.