Microsoft is making a new Windows 11 Insider Build 25145.1000, more precisely 10.0.25145.1000 rs_prerelease available for download today. It was created on 06/17/22. True, this week there is no official ISO. But again the Windows SDK etc. as ISO.
Don't worry, we'll collect the ISOs again and then put the link here. Or you look as usual in the right sidebar. [Update]: Here it is Link to ISOs Already. But now back to the new Insider version.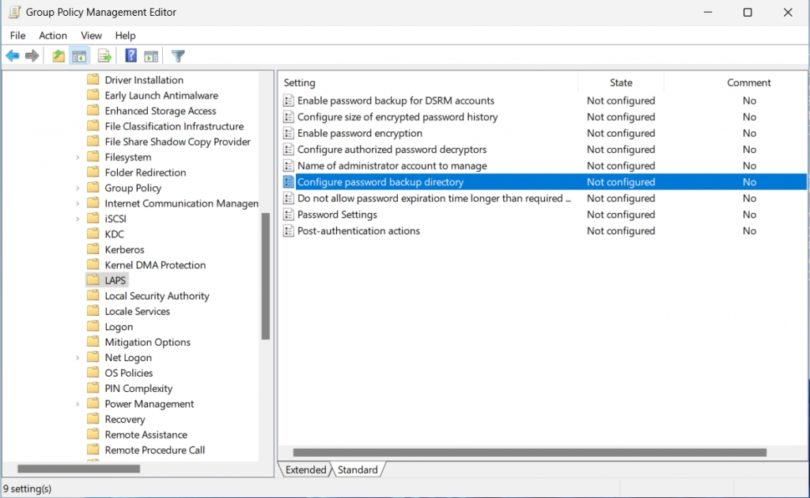 In this release, driver for Braille speech output, OneDrive storage warning, and subscription management have been added in Settings -> Accounts.
The former Local Administrator Password Solution (also known as "LAPS") tool is now a native part of Windows and includes many new features:
Feature documentation is not yet available, but if you used the previous LAPS product, many of the features in this new version will be familiar to you. Here is a quick guide to help you get started with the basic scenario of an Active Directory domain joined client:
Extend your Active Directory schema by running the Update-LapsADSchema cmdlet in the new LAPS PowerShell module.
Add the necessary permissions for your computer's organizational unit by running the Set-LapsADComputerSelfPermission cmdlet.
Add a new LAPS GPO, enable the Configure password backup directory option, and configure it to back up the password to Active Directory.
The domain-joined client will process the policy at the next GPO update interval. Run gpupdate /target:computer /force to avoid waiting. (The Invoke-LapsPolicyProcessing cmdlet can be used for the same purpose.)
After the domain-joined client saved a new password (look for event 10018 in the event log, run the Get-LapsADPassword cmdlet to get the newly saved password (by default, run as domain administrator).
To access this new group policy, open the Group Policy Editor and go to Computer Configuration > Administrative Templates > System > LAPS.
Known bugs in Windows 11 25145
General
We are investigating reports that the glimmer material and acrylic blur effect are not displaying correctly in operating system interfaces such as the start menu, notification center, and other areas.
We're investigating reports that closing from the Start menu doesn't work for some Insiders and instead causes an unexpected reboot.
Some games that use Easy Anti-Cheat may crash or cause a bug check on PC.
File Browser
The up arrow is misaligned in File Explorer tabs. This will be fixed in a future update.
We are investigating reports that File Explorer unexpectedly appears in light mode when launched in dark mode (for example, from the command line).
widgets We are working to fix an issue where widget settings (temperature units and pinned widgets) unexpectedly revert to default settings.
live subtitles
Certain full-screen applications (for example, video players) prevent live subtitles from being visible.
Certain apps that are near the top of the screen and are closed before the live captions are running will restart behind the live captions window at the top. Use the system menu (ALT + spacebar) while the application has focus to move the application window lower.
Fixes in Windows 11 25145
All Microsoft customers should be able to use our products knowing that we protect their privacy and provide them with the information and tools they need to audit the use of their private resources. The new features for Application usage history, introduced to Insiders in build 25140, gives users a 7-day history of location, camera, microphone, phone calls, messages, contacts, pictures, videos, music library, screenshots, and access to app resources at via Settings. You can find this new information in Settings > Privacy and security > App permissions
Suggested actions The suggested actions introduced in Build 25115 are now available to all Windows Insiders in the US, Canada, and Mexico.
File Browser a middle click Clicking on a folder in the main part of File Explorer will now open it in a new tab.
start
Narrator now correctly reads the dialog that opens when uninstalling an app from the context menu in Start and these options.
The animation when selecting the "More" button in the "Recommended" section of Home should now display correctly in right-to-left (RTL) languages.
taskbar When the notification center is closed with the keyboard, the closing animation now displays correctly.
settings
Entering a number in the settings search field when using an Arabic display language should no longer display boxes.
Fixed an issue that caused setup to fail when going to Bluetooth & Devices > Printers & Scanners on recent builds.
Fixed some crashes experienced by some Insiders on recent builds when opening the Wi-Fi section of Quick Settings or after connecting or disconnecting networks in the Wi-Fi section of Quick Settings.
Fixed an issue that caused the Wi-Fi option in Quick Settings and the Wi-Fi section in Settings to sometimes take a few seconds to appear.
Rearranging items in Quick Settings by tapping on them in edit mode should no longer cause Quick Settings to close unexpectedly.
input Added the SOM currency symbol (U+20C0) to the Courier New font family.
Task Manager Pressing CTRL + Page Up and CTRL + Page Up should now work again to navigate through pages in Task Manager.
Miscellaneous Fixed a rare issue that could cause certain apps to sporadically crash on launch.
SDK etc as ISO
Windows 11 tutorials and help
Introvert. Beer guru. Communicator. Travel fanatic. Web advocate. Certified alcohol geek. Tv buff. Subtly charming internet aficionado.