There is a lot of movement in the current Nvidia middle class. In addition to the new RTX 3060 and RTX 3060 Ti editions, there is also a new GeForce RTX 3070 Ti variant. This uses the "big" GA102 chip from the 3080 and 3090 series for the first time, albeit with a corresponding trim.
A reader gave VideoCardz the reference to the new variant of the RTX 3070 Ti, which was released by board partner Zotac is listed. The Zotac GeForce RTX 3070Ti-8G6X Apocalypse GOC has 6,144 shader units as before, but these do not come from a GA104 GPU, but from another GA102 variant.
RTX 3070 Ti with heavily cropped GA102
This variant is called the GA102-250 and it has only 6,144 active shader units, while the RTX 3080 has 8,704, the RTX 3080 Ti has 10,240, the RTX 3090 has 10,496, and the RTX 3090 Ti has a total of 10,752 alias shader units. "CUDA Cores" are active.
So Nvidia equips the fifth series with a GA102 chip. This is probably a type of remnant recycling where partially defective chips are still used.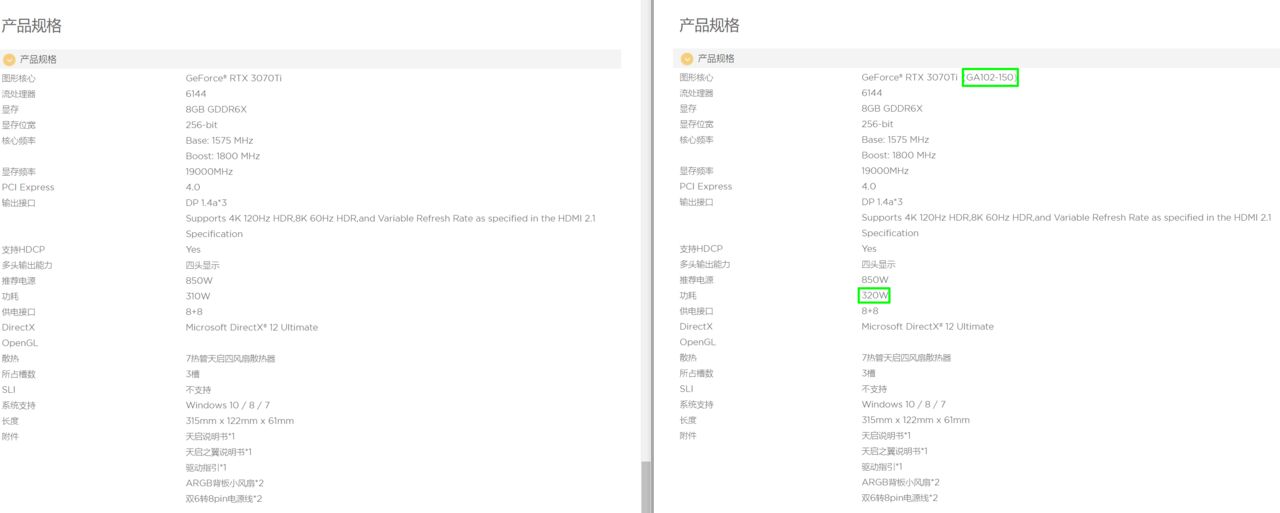 The RTX 3070 Ti with GA102 has the same clock rates as the Zotac model of the same name, which is still equipped with GA104 (see screenshot). The base clock is 1575 MHz and the slightly increased boost clock is 1800 MHz (reference 1770 MHz). However, Zotac states a slightly higher power consumption of 320 watts instead of 310 watts.
The memory interface is also reduced to the GA104 level, so 8GB GDDR6X memory is connected to a 256-bit wide bus at 19Gbps. In full configuration, however, the GA102 supports 384-bit for correspondingly higher performance.
GA102 variant probably only in China
Zotac lists the new variant on its Chinese website; however, this model does not exist in Germany or the US. It is quite possible that it is only served to China.
Leaker with a perfect hit rate
This innovation in the RTX 3000 portfolio is also not a surprise. The Twitter user @Zed__Wang I had already pointed it out in September. With the now also confirmed RTX 3060 with 8 GB and RTX 3060 Ti with GDDR6X, its success rate is 100 percent.
Upcoming RTX30 lineup:

3060 8G
GA106 128bit 8GD6

3060Ti D6X
GA104 256bit 8GD6X

3070Ti
GA102 256bit 8GD6X

— MEGAsizeGPU (@Zed__Wang) September 7, 2022
Introvert. Beer guru. Communicator. Travel fanatic. Web advocate. Certified alcohol geek. Tv buff. Subtly charming internet aficionado.