(excerpt from press release)
Mesh front panel for optimal airflow
Tempered glass (front and side panel)
3PIN +5V A-RGB M/B Sync by RGB control hub
Duesseldorf, April 7, 2022 – CHIEFTEC is pleased to introduce the latest model in the successful Scorpion Gaming Tower series: the SCORPION 4. With a large mesh front, the latest version accommodates the higher power consumption of next-generation components that require superior airflow and optimal cooling to function. get full gaming performance. Stylistically, the Scorpion 4 maintains the clean and elegant look of the series.
The technical specifications of the case remain unchanged with ATX motherboard support, 4 pre-installed A-RGB Rainbow fans, support for 240mm radiators, and space for 2x 3.5″ HDDs and 2x 2.5″ SSDs. We are pleased to be able to present to our customers a renewed model based on the already popular Scorpion case.
Available: May 2022
The SCORPION 4 is the next iteration of CHIEFTEC's successful Scorpion gaming case. The mesh front panel, in combination with the four pre-installed A-RGB Rainbow fans, also gives high-performance gaming PCs enough cooling without sacrificing the beautiful RGB look. The side panel made of tempered glass with a simple sliding mechanism offers A good look at the built-in hardware, while the A-RGB control hub allows lighting to be controlled via motherboard sync or the supplied remote. Built on the established and proven foundation of the Scorpion series, the SCORPION 4 offers a great balance of performance-oriented airflow, style and quality.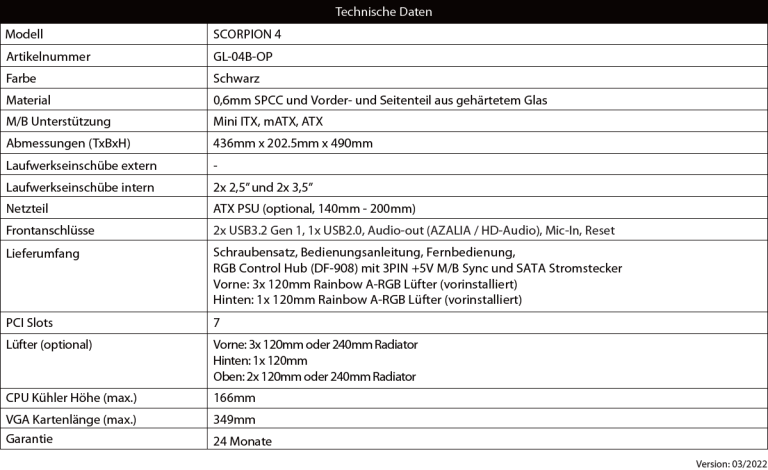 Introvert. Beer guru. Communicator. Travel fanatic. Web advocate. Certified alcohol geek. Tv buff. Subtly charming internet aficionado.