The content delivery network (CDN) and the DNS services of the American company cloud flare It stopped working this morning, causing numerous applications, services, and websites to become intermittently unavailable, responding to requests with only an HTTP 500 error.
Applications, services and websites report 500 error
After more and more websites with the message 500 Internal Server Error Shortly before 9 am, Cloudflare reported the global failure of much of the content delivery network it provided through the Twitter short message service. The company promised to fix the cause of the error as soon as possible.
The Cloudflare team is aware of the current service issues and is working to resolve them as quickly as possible. Updates can be followed here. https://t.co/22Yiyu3lKJ

— Cloudflare (@Cloudflare) June 21, 2022
A corresponding fix was implemented just an hour later and its effects on the network were observed until further notice. Shortly after, Cloudflare was able to officially give the go-ahead.
This incident has been resolved. https://t.co/22YiyukX9j

— Cloudflare (@Cloudflare) June 21, 2022
Cloudflare also has a corresponding in time and form status report published about the blackout with more details.
resolved


10:06 CEST

This incident has been resolved.

updates


9:51 a.m. CEST

We are still monitoring the result.

surveillance


9:20am CET

A fix has been implemented and we are monitoring the results.

identified


8:47 a.m. CET

The issue has been identified and a fix is ​​being implemented.

doing research


8:34 a.m. CET

Critical incident P0 was declared. Connectivity on the Cloudflare network has been interrupted in large regions.
Customers trying to reach Cloudflare sites in affected regions will see 500 errors. The incident affects all services in the data plane of our network.

cloud flare
In addition to various apps, online services and websites, real-time transfers from various banks were also affected by the flaw, but should have started working again by now.
The internet machine is broken, our team is turning it on and off again, so it should be up and running very soon! https://t.co/D4pn4Htzma

— Discord (@discord) June 21, 2022
Back in July and August 2020, Cloudflare's content delivery network failed widely, while a DNS bug recently took Facebook, WhatsApp, and Instagram offline for several hours.
Cloudflare takes websites and services by storm
The website fall detector graphically displays current idle times and provides an overview of all network errors. Failures on Cloudflare are often accompanied by failures on other websites and services.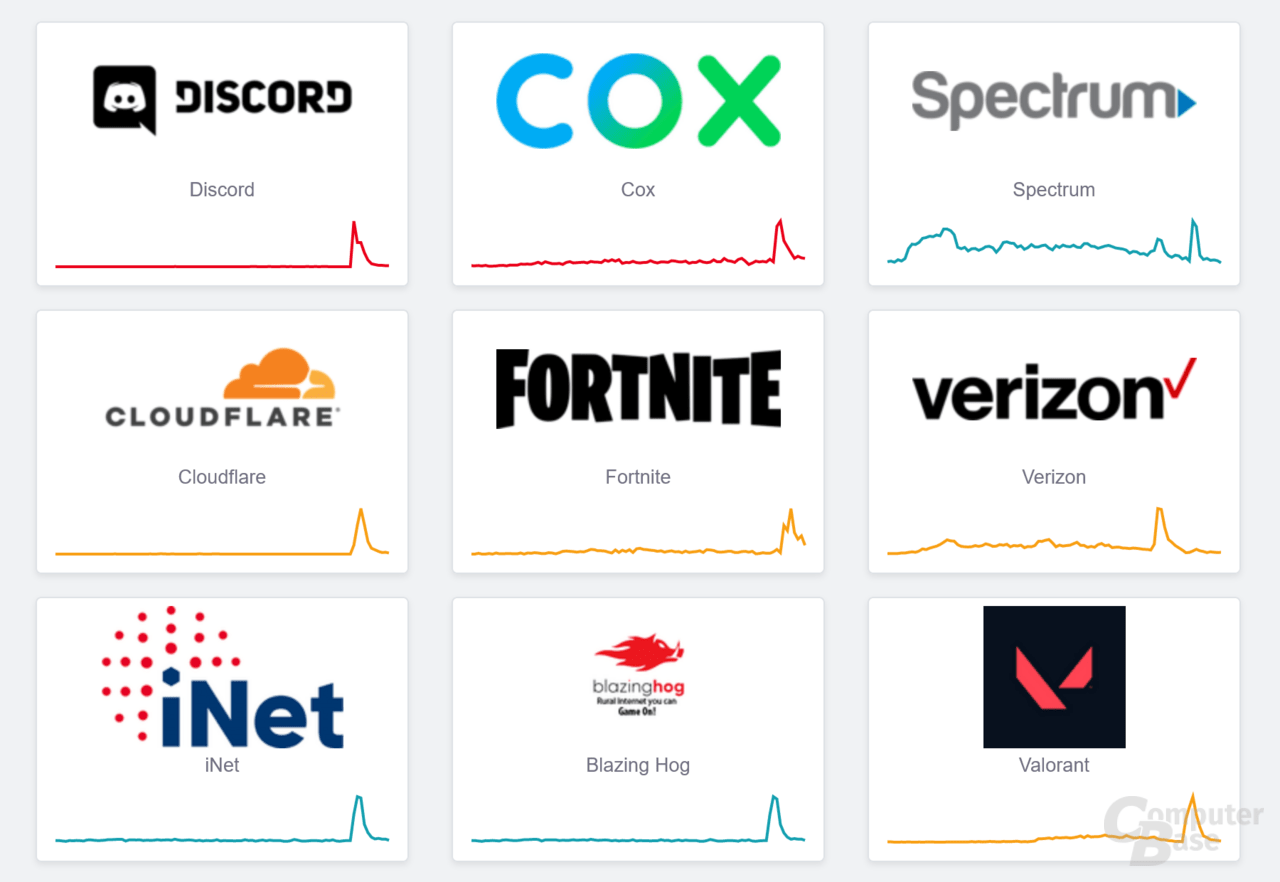 Introvert. Beer guru. Communicator. Travel fanatic. Web advocate. Certified alcohol geek. Tv buff. Subtly charming internet aficionado.