Ubisoft's pirate arcade adventure Skull and Bones will be released on November 8, 2022 for PlayStation 5, Xbox Series X|S, Google Stadia, Amazon Luna, and PC. For the latter, the publisher now publishes the official and detailed system requirements and also talks about ray tracing and alternate sampling.
Four example configurations for the requirements
But one after another. Ubisoft lists the minimum recommended hardware for a total of four combinations of resolution, refresh rate, and graphics settings. It starts with Full HD with 1,920 × 1,080 pixels at 30 FPS and the low preset, with an AMD Ryzen 5 1600 or an Intel Core i7-4790 as the processor. In addition to 8 GB of RAM, an AMD Radeon RX 570 with 4 GB of VRAM or the 6 GB variant of the Nvidia GeForce GTX 1060 is required. Windows 10 or later must be used as the operating system; Additionally, gamers need 65 GB of storage space, preferably on an SSD.
Switching to high graphics settings and 60 FPS again requires a Ryzen 5 3600 or Core i7-8700K and 16GB of RAM. Ubisoft names the Radeon RX 5700 XT and the GeForce RTX 2070 as graphics cards. The move to WQHD with 2560 × 1440 pixels then requires a move to a younger hardware generation in all respects. In the case of the processor, it is a Ryzen 5600X or a Core i7-9700K, while Ubisoft recommends a Radeon RX 6800 or a GeForce RTX 3070 as a graphics accelerator; apparently 8 GB of VRAM is still enough here.
UHD wants fast hardware and oversampling
For the 4K resolution of 3,840 × 2,160 pixels and 60 FPS, instead, 10 GB of VRAM is mentioned with the GeForce RTX 3080, with DLSS or FSR in Generation 1.0 being recommended in the balanced preset. Ubisoft names the Radeon RX 6800 as AMD's counterpart. An Intel graphics card with GPU ARC is never mentioned, although XeSS should be supported. The Ryzen 5600X is still listed as the processor, while the Core i5-11600K is listed as the Intel counterpart.
The editor does not list separate system requirements for the use of ray tracing, which is intended to improve global illumination. Other features highlighted by Ubisoft include a field of view controller, fully assignable button mappings, an unlimited refresh rate, and support for various ultrawide screen formats. Also, a waypoint is built into the game.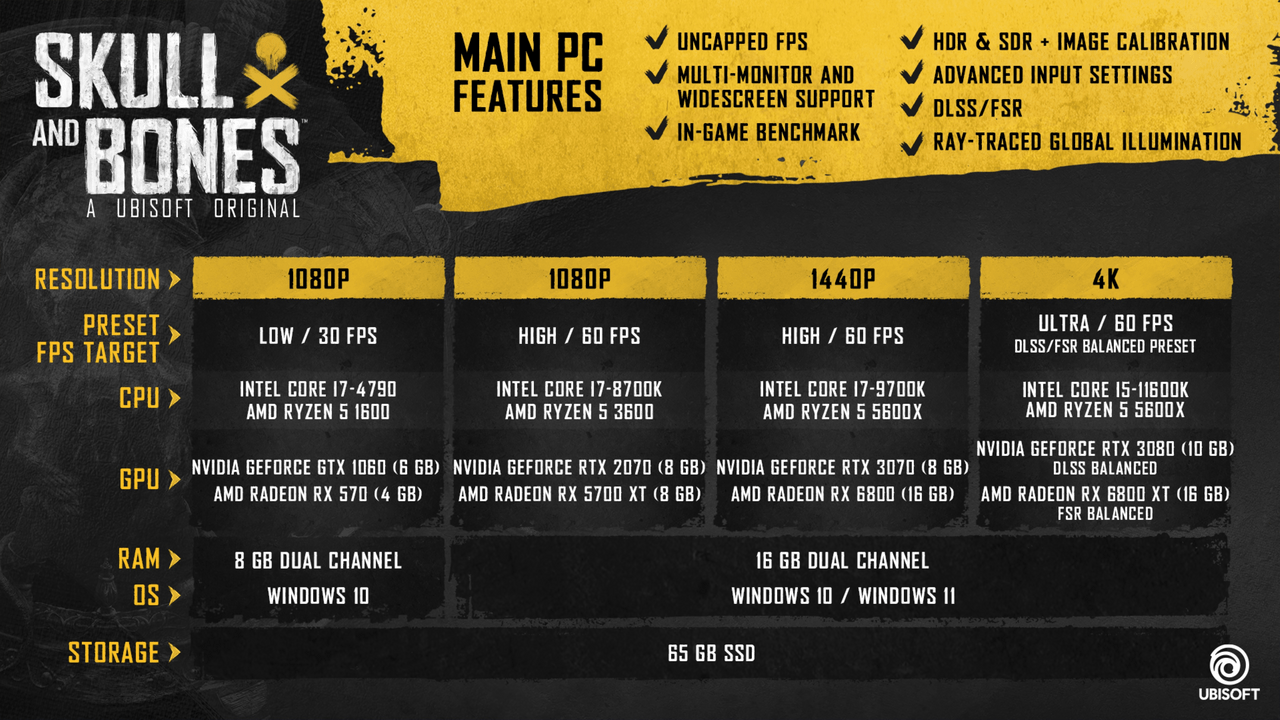 Introvert. Beer guru. Communicator. Travel fanatic. Web advocate. Certified alcohol geek. Tv buff. Subtly charming internet aficionado.